Ready, set, and go with more and more new deals at Costco and Costco.com in this months savings book! There are lots of deals to choose from, but here are our Top 5 CostcoDeals that we especially like and are adding to our cart on our next trip to Costco 😁. ✅ Don't forget to follow CostcoDeals on: Instagram, Tik Tok, and Subscribe to our Newsletter on costcodeals.co
In no particular order:
Noosa Yogurt
This Noosa Whole Milk Yoghurt is a popular choice in our home and tastes more like a little dessert than just eating your typical yogurt! This is a steal of a deal as its $2.90 off and only $5.98 for a pack of 12! Saw these in a four pack at our local Safeway for just about $5, so you are for sure getting a bang for your buck with this deal!
Bitchin Sauce
I don't know about you guys, but everyone we know loves this Bitchin Sauce Organic Chipotle Almond Dip! It goes great with almost everything and the best part now is that it is on sale for $2.30 off! This will be a hit with Super Bowl Weekend!
Bio Bidet
If you haven't had the chance to experience a bidet, then you are missing out! Feel clean after each go with this Bio Bidet USPA 6800 Luxury Bidet Seat on sale now for $100 off, only $199.99 on Costco.com! We've replaced all of our toilet seats with these and don't want to go back! Click below for a direct link to buy now!
https://www.costco.com/bio-bidet-uspa-6800-luxury-bidet-seat—.product.100015779.html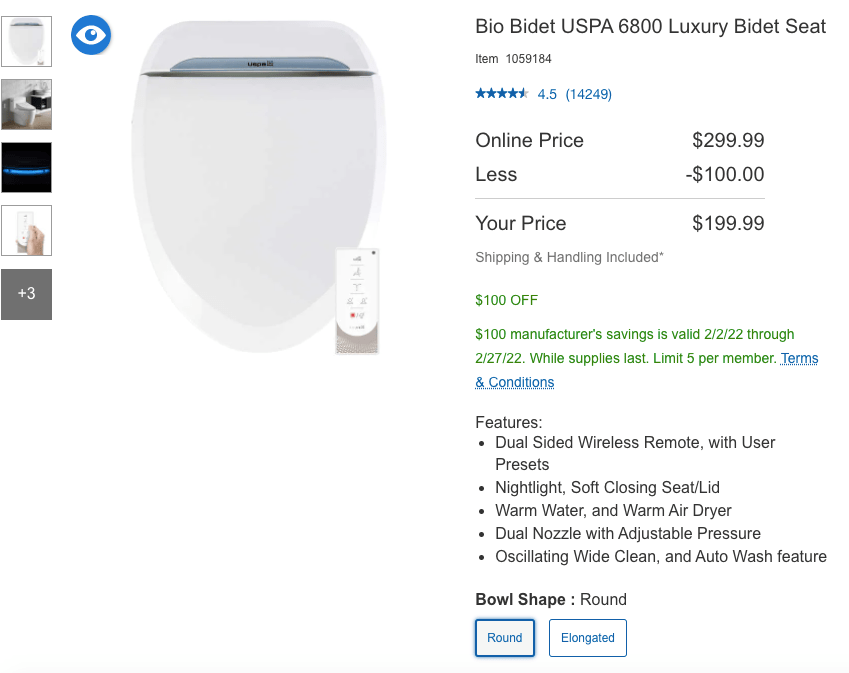 32 Degrees Ladies Sleep Pants
We love these soft sleep pants from 32 Degrees! Bought the mens version last time and are super comfortable and the one for ladies is up to par! Comes in a 2pk for $3 off, now only $11.99! If you haven't tried these out then add them to your cart on your next trip to Costco!
Tattooed Chef Organic Riced Cauliflower Stir-Fry
This organic riced cauliflower stir-fry is super delicious and mixed with peas, corn & red bell peppers tossed in sesame ginger sauce. Amazing and super easy to prepare! Gluten free and so good that you can't even taste the cauliflower! Available now for $3 off!