One of the many reasons why Costco has gained a devoted following is because of its amazing return policy. Costco's return policy goes above and beyond industry standards, offering an exceptional level of customer satisfaction. Their commitment to ensuring customer satisfaction is evident in their generous and hassle-free return policy.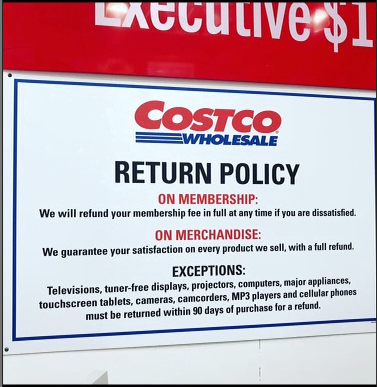 Costco allows customers to return almost any product at any time for a full refund. This policy applies both for in-store and online purchases, making it incredibly convenient for customers to initiate returns. However there are some exceptions to their great return policy.
Electronics: accepts return within 90 days (from the date the member received their item)
Diamonds: 1.00ct or larger returns must include all original paperwork/certificates, then within 48 hours, will receive inspection for authenticity from a Costco Graduate Gemologist
Cigarrettes and alcohol: no returns on either where prohibited by law
Items with limited useful life expectancy, like tires and batteries, may be sold with product specific limited warranty
Custom or special order kiosk products cannot be returned/refunded, unless warranty repair/replacement due to failure to meet specifications
Airline, Live Performance Event, Gold Bars, and Gold Bullion cannot be refunded
In a retail landscape where returns can be a frustrating and complicated process, Costco's return policy sets a great example of exceptional customer service. It's just one more reason why loyal Costco members keep coming back, knowing that their satisfaction is guaranteed.
What are some of the greatest or craziest returns you have ever done at Costco? Let us know in the comments below and be sure to subscribe to our newsletter and follow us on Instagram, TikTok, Facebook, and Threads for more CostcoDeals!